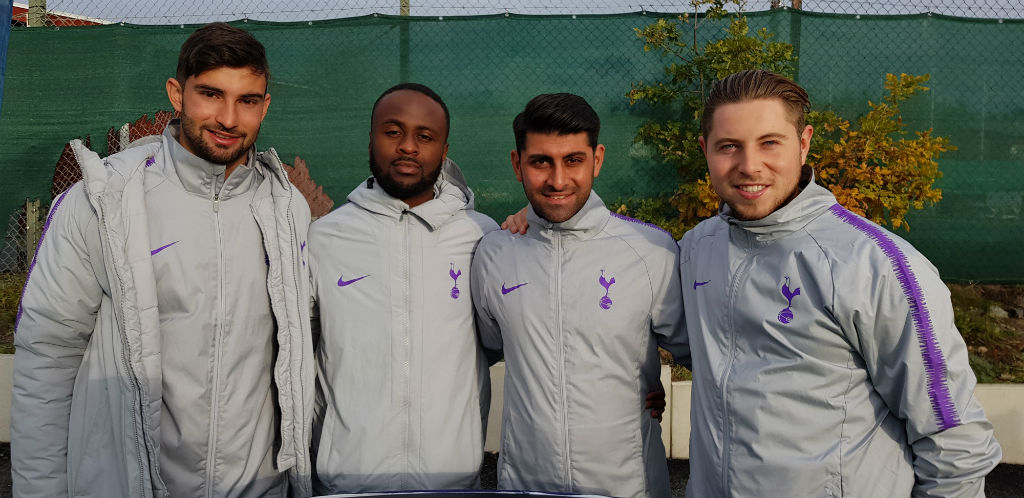 During the autumns  break, CoachenEvents arranged another clinic with Tottenham Hotspur. The second with the club in 2018. To arrange a clinic this season is always a chance and the first day of course we got the first snowfall of the year. Day two was probably one of the most rainy days of the year but at the end of the week the weather better and got really nice!
There was no one who froze when the coaches: Jerome Baker, Matheus Scapin, Aron Baker and Akash "Ak" Lakhani started the training sessions. As usual in terms of Tottenham's training, great focus was on individual training and the ability to solve situations on their own, often one-on-one. The pace was high all week and we guess most players slept well in the evenings. 160 children came to Danderyds Arena this time. Because we only had access to one artificial turf we were unfortunately unable to add more players and the queue became quite long at the end.
Extra fun was that for the first time we had a group for girls! 22 girls born 03-05 trained intensively under the direction of Matheus Scapin, who is daily coach of Tottenham Ladies. Girl's groups are something we will definitely continue in the future. The feeling was that all players were very happy with the week's training and most would like to come back next summer when we arrange the next clinic with Tottenham Hotspur.
Many thanks to amazing assistant swedish coaches who contribute their experiences, knowledge and good mood to making the clinic a positive experience for the participants! As always, always having fun meeting parents, relatives and other curious people looking down to our clinics! Now we are recharging for 2019 and hope to meet you at our clinics even then!
You can see photos on Facebook and Instagram On Vimeo we have uploaded some videos from the clinic!