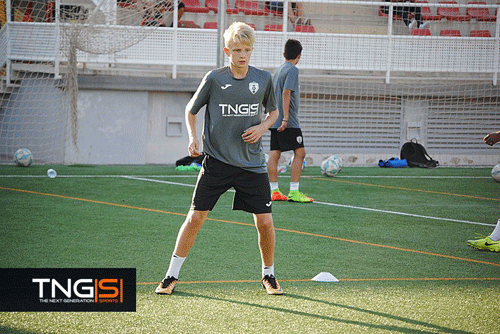 A football year in Valencia
Are you over 15 years old, love to play football and want to test how it is to live in Spain for some time? We give you the chance to come to TNGS Sports in Valencia and stay at their facility. You can play high-level football and study at the University of Valencia for a full year. You can also try to go down 2 weeks and see how it feels. A perfect opportunity for those who want to bet on football while studying and experiencing another culture. Welcome to become a TNGS player you too!
Next Generation Sports program
10 months of high-level football training where you can both work out with your group from TNGS and a local team in Valencia. You will be trained with professional coaches who tailor a program for you. Experience how it is to practice and play with a Spanish local team with even-time players - at your level. An experience for life!
TNGS High Performance Center is aimed at talented and ambitious players between the ages of 15 and 18. Here comes girls and guys from all over the world. The young people come to a healthy and healthy environment where they mature both as players and people.
The training is based on the player's unique features and the program is adapted to its quality and ability. TNGS coaches are professional and have often worked in some of the best clubs in Spain. Several of the players in TNGS have moved on to top clubs and national teams.
The training is held at the sports facilities at the Polytechnic University of Valencia (UPV) where the players are also studying. They have access to a state-of-the-art facility with the latest generation of artificial turf. Some training sessions also take place at the Valencia CF plant Paterna. Each player is placed in a local Spanish team at the right level. There both train and play matches during their time in Valencia
During his stay at the TNGS High Performance Center, the player can choose to study in the Spanish system, at a private or public school, or continue to study with his home country system. You do not therefore risk falling in school. In addition, you will learn a new language (Spanish).
In addition to these studies, you also receive lessons in leadership, coaching, brand management and language. The teaching is conducted by professional teachers.
The TNGS High Performance Center is twenty minutes from Valencia in a luxurious setting. The players live comfortably and TNGS is very happy that all young people will enjoy themselves and feel at home.
Nearby are various sports facilities such as football and basketball courts, tennis, paddle and squash courts, as well as pools, restaurants and TV lounge. The perfect combination for keeping players busy and active.
The staff in the house takes good care of the players. There are home parents who take care of food, shoot and are there for support around the clock.
A typical week can look like this:
Monday: Training with TNGS, Lunch, Study, Individual Exercise
Tuesday: Training with TNGS, Lunch, Studies, Local Training
Wednesday: Training with TNGS, Lunch, Study, Local Training
Thursday: Training with TNGS, Lunch, Study Training with local team
Friday: Physiotherapy with TNGS, Lunch, Study, Rest / Individual Exercise
Saturday: Match with local team
Sunday: Available, opportunity to watch Spanish league match, go to the beach, read homework etc.
The football year in Valencia starts in early September and ends in May.
In September 2017, Isak Bäckman from Norrtälje was down at TNGS. We therefore have our own experience of how it works down in Spain. We have collaborated with TNGS since 2013 in various projects and know that it is extremely serious and professional.
Now you can test on life as a TNGS player for a short period of time. A great way to "look after" before deciding on a year's stay.
2 weeks: 1700 Euro
1 month: 3200 Euro
The price includes everything except flights. Ie Cost o Accommodation, training, transportation, teaching. Are you interested? Send an email to
This email address is being protected from spambots. You need JavaScript enabled to view it.
Please visit the
TNGS
website to learn more about life as a TNGS player.